The Buffalo Bills' longtime owner died at the age of 95. He'll be deeply missed.
1. He was a proud member of the "Foolish Club."
AP
That's what the co-founders of the American Football League called themselves — The Foolish Club. In 1959, after Lamar Hunt and Bud Adams were denied by the NFL, they decided to make a league of their own, and they designed it to be in direct competition with the NFL, a league that has existed since 1920. Ralph Wilson was one of these eight "fools" who started franchises; his was the Buffalo Bills. Of course, the AFL later merged with the NFL in 1970. The fools' gamble payed off.
AP / NFL
Rick Stewart / Getty
Wilson has been the only owner of the Buffalo Bills in the franchise's history — all 54 years.
3. The Oakland Raiders might not exist without him.
Ed Kolenovsky / AP
Back in the early days of the AFL some of the franchises were struggling financially — one of them being the Oakland Raiders. Since the AFL needed all eight teams to be taken seriously, Wilson loaned the Raiders franchise $400,000 to stay afloat. Without Wilson's help there's a good chance one of the most storied franchises in the NFL simply wouldn't exist.
4. He hired the first female scout in the NFL — his daughter.
Joe Robbins / Getty
Linda Bogdan was hired as the first active female scout in pro football in 1986 after she "got tired of too many 2-14 seasons." She also served as the team's corporate vice president until she died of cancer in 2009.
5. Wilson donated two Bills tickets to the Boys and Girls Club for every game in Tim Russert's name.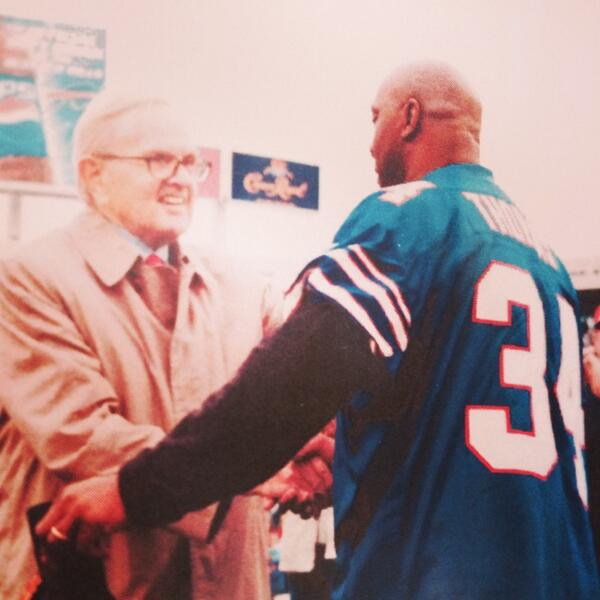 Thurman Thomas @thurmanthomas Follow
My heart is heavy, buffalo bills community unite. U will always be my boss #ralphwilson god bless the Wilson family

Fred Jackson @Fred22Jackson Follow
Jus heard the news of Mr. Ralph Wilson passing. Sending Thoughts and Prayers to the Wilson Family! I owe him a tremendous amount for

Fred Jackson @Fred22Jackson Follow
Opportunity to be a Bill! Mr. Wilson has done a lot for not only me and my teammates, but the entire NFL family. He truly will be missed!
@RussBrandon Sad day for the #BillsMafia #RIPRalphWilson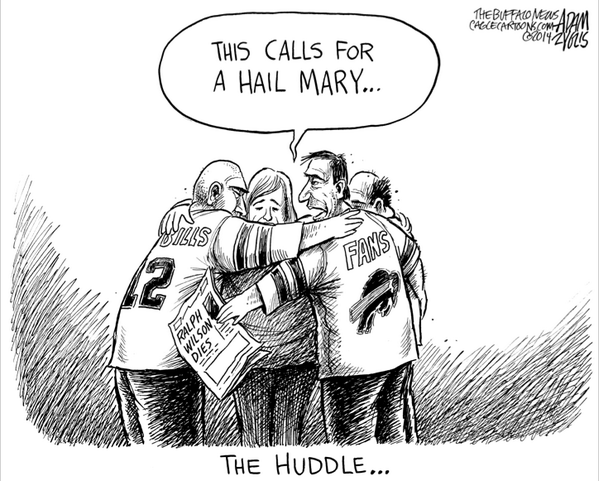 The Buffalo News @TheBuffaloNews Follow
Adam Zyglis' illustration, which will appear in tomorrow's Buffalo News:
12. He was the Buffalo Bills' biggest fan for 54 years.
Dean Duprey / AP
As Buffalo Bills President and CEO Russ Brandon said in a statement today: "No one loves this game more than Ralph Wilson. It's very tough. What he's meant to the entire organization. He's our leader, our mentor, our friend. How he loves his players and loved our community. Special guy. They just don't make them like Ralph Wilson."
More than 50 years ago Wilson brought a professional football team to Buffalo, and over that half century he made damn sure it stayed in Buffalo; hopefully it always remains that way.
13. Even though the Buffalo Bills never won a Super Bowl, Ralph Wilson was and always will be a champion.
Read more: http://buzzfeed.com/mjkiebus/things-every-nfl-fan-needs-to-know-about-the-late-ralph-wil